April 11, 2019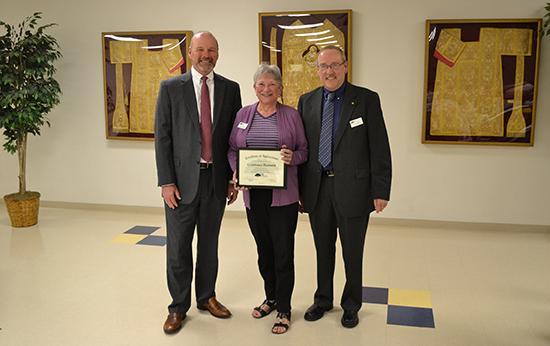 Rochester, NH –HRCU held their 57th Annual Meeting on Wednesday, March 20th at Our Lady of the Holy Rosary Parish in Rochester, New Hampshire. They were joined by approximately 150 members and guests for recognitions, speeches and dinner.
Chairman of the Board Dana Flanders, Supervisory Committee Chairman Bob Langelier and CFO Brian Therrien provided a regulatory, financial and overall state of HRCU update. Another record year of member, loan and deposit growth was highlighted in their reports. Strategic initiative accomplishments where noted such as the opening of a second Dover branch and the expansion of HRCU Live, the Credit Union's growing interactive teller network.
Guest speakers at the Annual Meeting included New Hampshire Banking Commissioner Gerald Little, Tricorp Federal Credit Union CEO Stephen Roy and Seeds of Faith Founder & Director Theresa Tozier. Tozier shared the story of Seeds of Faith and Lydia's House of Hope with attendees and thanked HRCU for their assistance provided through their financial literacy program and contributions as a part of the Christmas Caring Campaign. Both Little and Roy congratulated HRCU on their continued growth and success, with Little citing an impressive increase in members year over year, bringing HRCU's total to 21,544 members as 2018 ended.
HRCU President and CEO Brian Hughes spoke of community initiatives, youth financial education and providing local funding to members through members deposits. Hughes stated that over 20 local not-for-profits were provided financial assistance through the 5th annual Christmas Caring Campaign. Many were in attendance and recognized. He also commented on the newest youth education initiative. In its first year, HRCU will connect with over 700 elementary age students through Junior Achievement. "Educating the youth in our community is a mission we wholeheartedly embrace at HRCU".
HRCU is very proud to give back to the community, Hughes commented, "On behalf of our members we are humbled when we meet organizations that do so much in our community. Without our members and the support of our staff and volunteers it wouldn't be possible to have provided over $40,000 for this year's Christmas Caring Campaign".
Chairman of the Board of Directors, Dana Flanders, presented service awards to five volunteers for their combined 170 years of service to HRCU. Paul Auger (45 years) and Kathleen Simoneau (10 years) of the Board of Directors, Constance Hamann (25 years) of the Supervisory Committee and Andre Therrien (45 years) and Normand Lanoie (45 years) of the Council of Trustees were all honored on the evening. Local photographer Lydia Williams was also recognized for her contributions to the Credit Union, including her photo which HRCU featured on the front of their 2018 Annual Report.
Additionally, the Credit Union presented a resolution to the family of the late HRCU Co-Founder Gerard Gravel. Gravel signed off on the first account opening in HRCU history when he issued Account 1 to Monsignor Gilles Simard on May 2nd, 1962. Gravel remained a key contributor to HRCU, serving as Treasurer and later as President. As a Certified Public Accountant, his financial background was invaluable to the development of the Credit Union.
---