June 18, 2019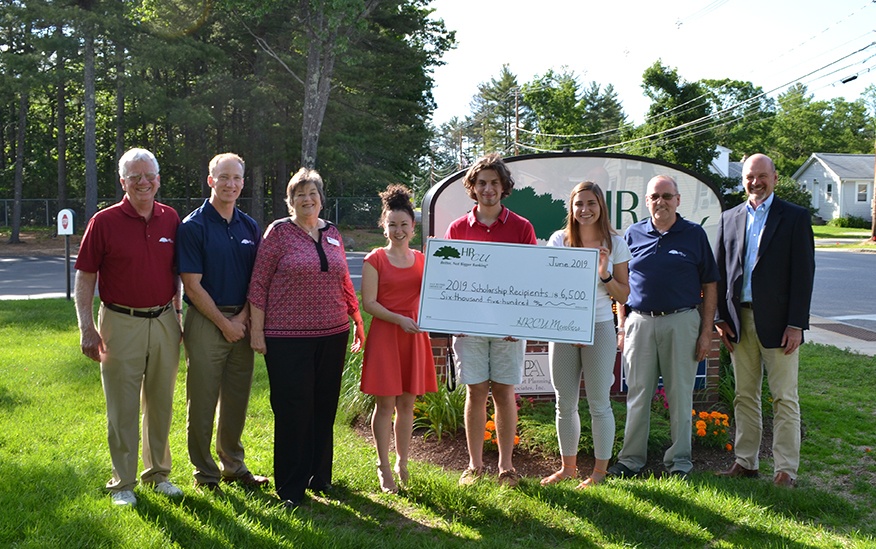 On June 17th, Dana Flanders, Chairman of the Board of Directors and Brian Hughes, President and CEO at HRCU were pleased to award seven local high school graduates with college scholarships. A total of 223 scholarships totaling over $226,000 have been awarded to local students since 1996.
"It was a very competitive year with a lot of great applicants," said Hughes. "Each of these recipients should be very proud of their accomplishments and we wish them all bright futures."
Scholarship recipients this year included: Alyssa Daigle, a graduate of Spaulding High School (SHS) who will be attending the University of New Hampshire (UNH); Adrienne Dwyer, a graduate of St. Thomas Aquinas who will be attending Emmanuel College; Anthony LaBruto, a graduate of SHS who will be attending Emerson College; Kelsey Pine, a Coe-Brown Northwood Academy graduate attending UNH; and Sydney Todd, an SHS graduate attending Jacksonville University.
HRCU also awarded Franchesca Panniello and Matthew Winders with scholarships in recognition of their outstanding achievement in HRCU's Spaulding High School banking and finance program. The banking and finance program have been taught by HRCU since 2006. HRCU also operates a full-service branch, open to the public, at Spaulding.
Learn more about HRCU's Annual Scholarship Program here!
---